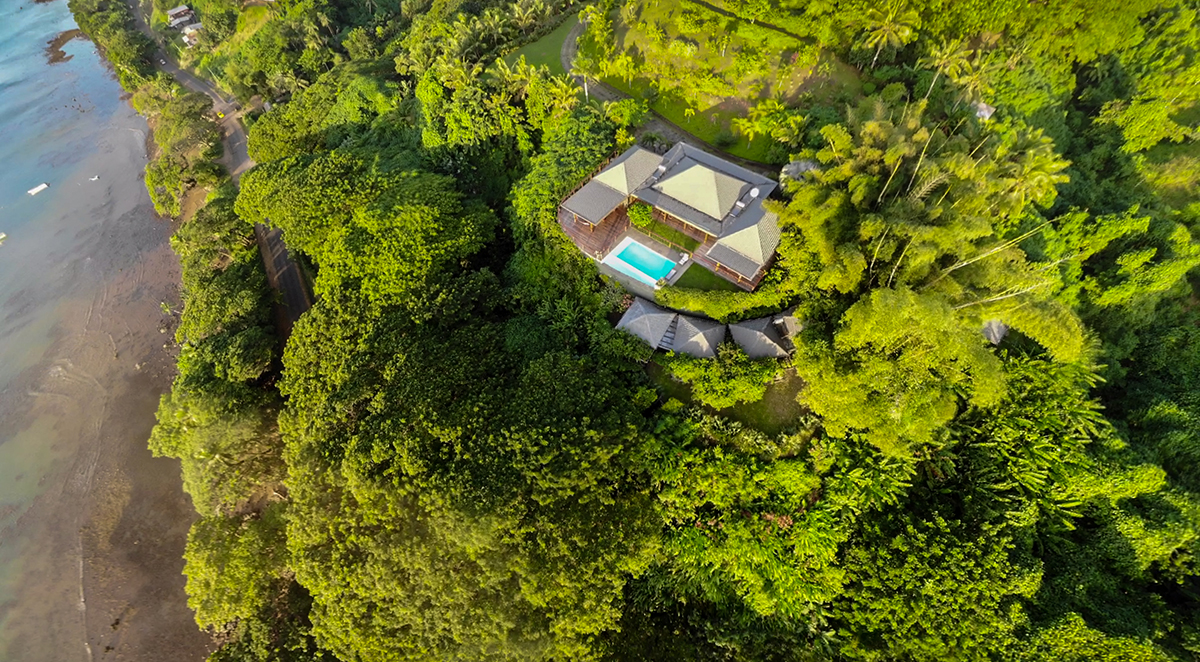 An 8 acre private playground for visionaries to refresh and renew.
Your paradise, hand-crafted from native hardwoods.
Beyond time.
Our guests marvel that time seems to stand still in Fiji. Presence here takes on a timeless quality. This special island fosters insights in rare and mysterious ways.
Digital detox.
In our urban, always-connected world, anxiety runs the show. Away from digital mayhem, you come to know the whispers of your soul and the vitality of your body.
Music.
Our curated playlists reflect the rhythm of the day. From wafting notes of a French café in the morning to bossa nova in the afternoon, you'll sway and even twirl into an evening dance party.
Private bungalow suite.
Our suites are designed for relaxation and contemplation. On one side is your queen size bed and spacious closets. On the other is your nurturing lounge perfect for reflection or gathering.
Rainbath shower.
Your private suite features a rainbath shower overlooking the sea. Your sink is set atop an indigenous raintree slab. A separate toilet provides privacy.
Ocean views.
Your suite looks out over our sparkling sea.  Flowering vines curl around the trellises to frame the view, while the scent of their blooms wafts through your windows.
Peaceful slumber.
Luxurious linens invite you to slumber deeply. Cooling overhead fans keep temperatures appealing. Allow the circadian rhythm of your body to sync with the sun and moon.
Relaxing hammocks.
Throughout the property are hidden nooks with colorful hammocks. Swing with the island breezes, read inspiring literature, indulge in a nap. This is Stillness, after all.
Infinity pool.
Our pool boasts one of the most magnificent views of Savusavu Bay and her exquisite sunsets. Sheltered by our grandmother raintrees, dips in the pool are also a private affair.
Vitality breakfast.
Awake to fresh coffee and tea, like turmeric, ginger or lemon tea. Savor scrumptious artisanal breads with local honey, just-picked island fruits and clarifying juices.
Picnic lunches.
Pick up your picnic backpack so you can explore our beautiful island. Enjoy a roasted potato-curry apple wrap, pickled cucumber salad and spiked papaya with crispy oatmeal cookies.
Nightly dinner party.
Sip sundowners on the bocce field followed by a 3-course meal of watermelon gazpacho, grilled Walu over spinach mash and lemon squares with nutmeg cream. Delectable.